Helping you
help your patients
Improved care experience for nurses and patients alike
We develop integrative interventions to improve comfort at every stage of
patient care – from hospital to home.
We develop integrative interventions to improve comfort at every stage of patient care – from hospital to home.
We do this by combining evidence-based essential oil formulas with patient-controlled delivery systems that work to improve recovery as well as satisfaction with care and efficiency in the nursing practice.
We are also leaders in best practice guidelines for essential oil use in the clinical setting, transforming how clinicians view and utilize integrative therapies, and ensuring the highest safety standards within the field.
Fast-Acting,
Low-Risk, Integrative
Nursing Solutions
Evidence-based and
Proven to Help Comfort Patients
During Treatment and Recovery
Evidence-based and proven to help comfort patients during treatment and recovery
Patient-driven and
Pleasant for Enhanced
Experience of Care
Drug-free
Easy to Administer
No Physician's Order Required
Explore our solutions for:
Explore our solutions for:
Why Soothing Scents medical?
We're dedicated to a new experience of care, emphasizing intervention simplicity, patient autonomy, and a reduced reliance on supplemental medications to treat persistent discomfort. We focus on solutions that are low-risk and easy to manage, enhancing the experience of both patient and nurse.
We use patient formulations that are comforting as well as effective. We combine these with human-centered product design, allowing patients to control administration and taking the stress out of recovery.
No dosage monitoring, no IV lines, no "kick-in" time. Our solutions are simple, transparent, versatile and, most importantly, safe. And as a drug-free nursing intervention that does not require a physician's order, they are easier to procure.
Cost-saving and value-adding
Our solutions add economic value through lower direct costs, reduced readmissions and higher patient satisfaction scores.
Resource-preserving and efficiency-enhancing
All of the above means that nurses and facilities can reduce time-consuming stressors, including excessive monitoring, managing medication side effects and calming anxious patients.
QueaseEASE
Contains a blend of 100% pure and natural essential oils and is used in hospitals to calm queasiness that is associated with motion sickness, surgery and chemotherapy.
Peppermint | Ginger | Lavender | Spearmint
STILL
Contains a blend of 100% pure and natural essential oils to help alleviate stress and soothe the body and mind — safely, quickly and effectively.
Ylang Ylang | Bergamot | Lavender | Sweet Orange
EXPECTING
Contains a blend of 100% pure and natural essential oils to help manage queasiness related to pregnancy. It can be used whenever needed. All ingredients are safe for mother and baby.
Lavender | Peppermint | Lemon | Lime | Ginger
FOCUS
Contains a blend of 100% pure and natural essential oils to help alert your senses, boost concentration and enhance energy — no coffee needed. 
Peppermint | Cinnamon | Eucalyptus | Rosemary | Clary Sage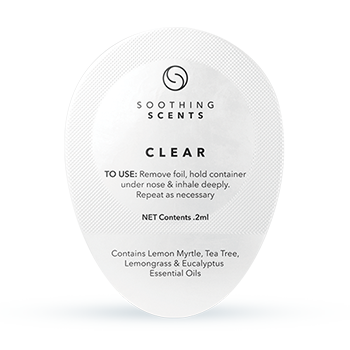 CLEAR
Contains a blend of 100% pure and natural essential oils to help ease nasal congestion — safely, quickly, and effectively. 
Lemongrass | Eucalyptus | Lemon Myrtle | Tea Tree
"I have had multiple experiences with use of QueaseEase. I share it with my patients, family and friends when they have bouts of nausea. As a nurse I find this to be a wonderful, non-invasive treatment for our patients."
Lois Schick, RN, SPAN, FASPAN,
author, PeriAnesthesia Nursing Core Curriculum
View our study reports, plus currents insight within the field of integrative care
Our delivery systems are designed specifically for the clinical setting to ensure safe dispensing and easy administration by both nurse and patient. All products are drug-free and formulated using 100% pure and natural essential oils. They can be used safely with patients of all ages and medical conditions. We offer three personal delivery systems to accommodate a range of needs and conditions. View our delivery systems in detail here.
A disposable, short-use version of the Aromatic Inhaler, designed to meet hospital safety standards.Can be used with the QuickCLIP,  available with bulk QuickTAB orders.
Available in select blends
A compact version of the aromatic inhaler. Can be fastened to clothing or equipment for hands-free use.
Twist cap inhaler tube with an internal wick that holds essential oil vapors. BPA-free,100% recyclable, and leak-proof.
Request a sample kit for your medical facility
Your facility starter kit, on us — delivered to your door. Available to eligible medical professionals.
How to order for your facility:
Order directly through us
We accept purchase orders at NET 30 terms. All products are available to purchase on Amazon.
Order through a distributor
Don't see your distributor listed? Have their representative contact us.
Free eBook: Best Practices for Diffusing Essential Oils in the Health Care Environment
Sign up and get our free eBook on using essential oil therapy in your care unit
Working with Soothing Scents
Offering you more than just product. We provide our facility partners with added support and services, including training, one-on-one customer care and practice guidelines
1:1 consultations
and support
Study and trial
setup assistance
Want to learn more about our healthcare offers?
Visit our resource page to enhance your Soothing Scents experience
Browse our frequently asked ones